Strapless Push-up Wired Stick on Bra Black
8809BLKB
Regular price
Rs.2,400
/
---
Bra Cup and Band
| Size | Under Bust (cm) | Over Bust (cm) |
| --- | --- | --- |
| 28 A | | 72-74 |
| 28 B | | 74-76 |
| 28 C | | 76-78 |
| 28 D | | 78-80 |
| 28 DD | | 80-82 |
| 28 E | | 82-84 |
| 28 F | | 85-88 |
| 28 FF | | 89-92 |
| 28 G | | 93-96 |
| 28 H | 59-62 | 97-100 |
| 30 A | | 77-79 |
| 30 B | | 79-81 |
| 30 C | | 81-83 |
| 30 D | | 83-85 |
| 30 DD | | 85-88 |
| 30 E | | 88-91 |
| 30 F | | 92-95 |
| 30 FF | | 96-99 |
| 30 G | | 100-103 |
| 30 H | 63-67 | 104-107 |
| 32 A | | 82-84 |
| 32 B | | 84-86 |
| 32 C | | 86-88 |
| 32 D | | 88-90 |
| 32 DD | | 90-93 |
| 32 E | | 94-97 |
| 32 F | | 98-100 |
| 32 FF | | 101-104 |
| 32 G | | 105-108 |
| 32 H | 68-72 | 109-112 |
| 34 A | | 87-89 |
| 34 B | | 89-91 |
| 34 C | | 91-93 |
| 34 D | | 93-96 |
| 34 DD | | 97-100 |
| 34 E | | 101-104 |
| 34 F | | 105-108 |
| 34 FF | | 109-112 |
| 34 G | | 113-116 |
| 34 H | 73-77 | 117-120 |
| 36 A | | 92-94 |
| 36 B | | 94-96 |
| 36 C | | 96-98 |
| 36 D | | 98-101 |
| 36 DD | | 102-105 |
| 36 E | | 106-109 |
| 36 F | | 110-113 |
| 36 FF | | 114-117 |
| 36 G | | 118-121 |
| 36 H | 78-82 | 122-125 |
| 38 A | | 97-99 |
| 38 B | | 99-101 |
| 38 C | | 101-103 |
| 38 D | | 103-106 |
| 38 DD | | 107-110 |
| 38 E | | 111-114 |
| 38 F | | 115-118 |
| 38 FF | | 119-122 |
| 38 G | | 123-126 |
| 38 H | 83-87 | 127-130 |
| 40 A | | 102-104 |
| 40 B | | 104-106 |
| 40 C | | 106-108 |
| 40 D | | 108-111 |
| 40 DD | | 112-115 |
| 40 E | | 116-119 |
| 40 F | | 120-123 |
| 40 FF | | 124-127 |
| 40 G | | 128-131 |
| 40 H | 88-92 | 132-135 |
| 42 A | | 107-109 |
| 42 B | | 109-111 |
| 42 C | | 111-113 |
| 42 D | | 113-116 |
| 42 DD | | 117-120 |
| 42 E | | 121-124 |
| 42 F | | 125-128 |
| 42 FF | | 129-132 |
| 42 G | | 133-136 |
| 42 H | 93-97 | 137-140 |
| 44 A | | 112-114 |
| 44 B | | 114-116 |
| 44 C | | 116-118 |
| 44 D | | 118-121 |
| 44 DD | | 122-125 |
| 44 E | | 126-129 |
| 44 F | | 130-133 |
| 44 FF | | 134-137 |
| 44 G | | 138-141 |
| 44 H | 98-102 | 142-145 |
| 46 A | | 117-119 |
| 46 B | | 119-121 |
| 46 C | | 121-123 |
| 46 D | | 123-126 |
| 46 DD | | 127-130 |
| 46 E | | 131-134 |
| 46 F | | 135-138 |
| 46 FF | | 139-142 |
| 46 G | | 143-146 |
| 46 H | 103-107 | 147-150 |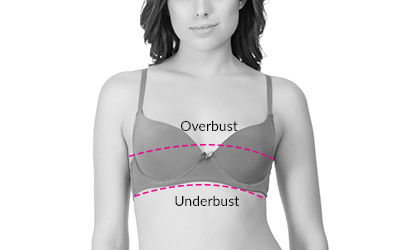 Description:
This Free back Bra is a designer garment. Its modern and anatomically manufactured in a single piece. It gives support with lifting effect. It lifts and shapes your bust and adheres to your body comfortably. Since it doesn't contain any braces, snaps or seams, thanks to its silicone adhesive sides which adapt perfectly to the shape of your bust when you wear your garment with low-cut, backless or strapless cuts. Its underwire and adhesive side wings keeps it in place.
Features:
Push up offers gentle lift with rounded shape
Deep plunge design is suitable for plunge necklines
Half or demi coverage is good for natural cleavage
It has arched center to accommodate tummy comfortably
Instructions for Use:
Before using this bra, wash your bust and sides area with soap and water, then dry completely
Do not use lotions, creams, oils, powder, perfumes or any kind of moisturizers because it will reduce the effect of adhesive
Remove the paper from the side tabs (don't waste paper)
In front of mirror and keeping the bra in place with your fingers hold the bra while smoothing each side at the same time
To Remove Bra:
Remove the tabs towards your breast one by one while holding your skin
If there are any remains of silicone, you can clean with baby oil from your skin
Don't take off your bra when your skin is wet
Recommendations:
Recommended for small busted females most suitable for cups A, B and C.
24 hour test is required prior to start long use
Use this bra for 4-8 hours, if you experience any itching, burning or discomfort, immediately discontinue
Do not use if you have recent wounds, cracked skin, abrasions, burns etc
Not recommended for sensitive skin
Care Instructions:
Do not wash
Do not dry clean
Do not bleach
Do not Iron
Do not use water on silicone flaps
Cover the adhesive part of bra with protective tape when not wearing the bra
Composition:
80% Polyamide 20% Elastane
Silicone-based adhesive
Limited Liability:
Its responsibility of the customer to use the product carefully. Company will not be responsible for the misuse of this product.
NOTE: 
This product is non exchangeable !
Step 1: Measure Your Underbust (Band Size)
Measure yourself wearing a contour or underwire bra (avoid padded or push up bras), Stand up, then relax your arms and shoulders. Breathe out. Wrap a tape measure around your chest and back, just under your breasts. It's OK to hold it tightly - your bra is designed to stretch. Keep the tape parallel to the floor.
Step 2: Measure Your Overbust (Cup Size)
Next, take the tape and measure around your breasts and back. Again, keep the tape parallel to the floor. Let it rest gently against the fullest part of your bust. Don't hold the tape too tightly this time. Again, enter your measurement below, in centimeters (cm).
Note: Enter your measurement above, in centimetres (cm).
*A Video Sourced by Zivame
How to measure your bra size?
Have you been suffering from back problems? Constant headaches? Are adults always criticizing your problematic posture? Does the phrase bra size calculator sound completely foreign to you? The problem may not be you – just your bra size! Research shows that 80% women today are wearing the wrong bra size, even though information about measuring yourself has become far more accessible about the internet. And wearing the wrong style of bra can be terrible for your health.
What most people don't seem to know is that even if you were wearing the perfect bra size six months ago, it could be totally wrong for you now. Things like losing or gaining weight, exercising, nursing and age can massively alter your bra size, making it necessary for you to refresh your bra wardrobe.
Moreover, wash and wear means bras wear out after some time. The elasticity wears out after a while, which makes the straps and band size loser than they were before. But in Pakistan especially, getting good information in-store guidance about proper sizing and even buying the correct size can be a total nightmare! That's why Losha was created so that women can help women find the right lingerie for them.
As long as you are wearing your perfect style bras, the perfect way, the perfectly fitting bra should give you no problem at all. In fact, it will make you feel more comfortable, pretty and confident! Here at Losha, we are here to help. Our online bra size calculator will make the process as simple as 1-2-3. Just put on a non-padded bra, grab a measuring tape and get ready to measure yourself! (Hint: And once you're done, browse or have a look at losha bra styling guide to help you choose what style works best for you.)
Just like we can't use a fork to eat cereal, we really can't wear a nursing bra for exercising. There is a different style of bra for every woman and every occasion! Maybe it's a sports bra for working out or a nursing bra for feeding your baby, a contour cup bra to look amazing under your fitted clothes or a push-up bra for a little extra cleavage – different women have different requirements at different times. Let our bra styling guide take you through the basics:
Free Shipping
For all orders above Rs. 2000, free shipping will be provided.
OTHER INFORMATION
For all orders below Rs. 2000, a standard rate of Rs. 190 will be charged.
All orders are shipped within 48 hours.
Metro city orders are delivered within 4-5 working days. Orders from smaller cities take 6-7 working days for delivery.
Online tracking for confirmed orders is available.